It's that time of year! Me and Mark have head off to Brussels for FOSDEM, a large developer conference held at the university. We left at around 7 from Lancaster, drove to the airport and jumped on our plane.
So after an uneventful but comfortable flight (the plane was almost half empty!) We arrived, managed to catch the right train the first time, and arrived at our hotel – the lovely Pullman Hotel in South Brussels.
After acquainting ourselves with our respective rooms, we headed deeper into Brussels, towards where the pre event social would be taking place the next day.
We found several brilliant little gift shops with interesting items (La Suite, as well as a few Manga/Comic stores), then headed back towards the hotel to find somewhere to eat. Ended up at a great Steakhouse just opposite the station, which did a large selection of gorgeous salads – If I remember rightly, mine had smoked duck and goose liver pâté on top of a large plate of salad. My only regret was not going back there to have another – maybe next year!
That evening eventually consisted of myself and Mark sat in the hotel bar, working our way through both todo lists and the beer selection – as always, work follows us, especially when we can work remotely.
The next day (Friday) started off with an awesome breakfast at the Häagen-Dazs Café just next to the hotel, where we had a plate of deliciousness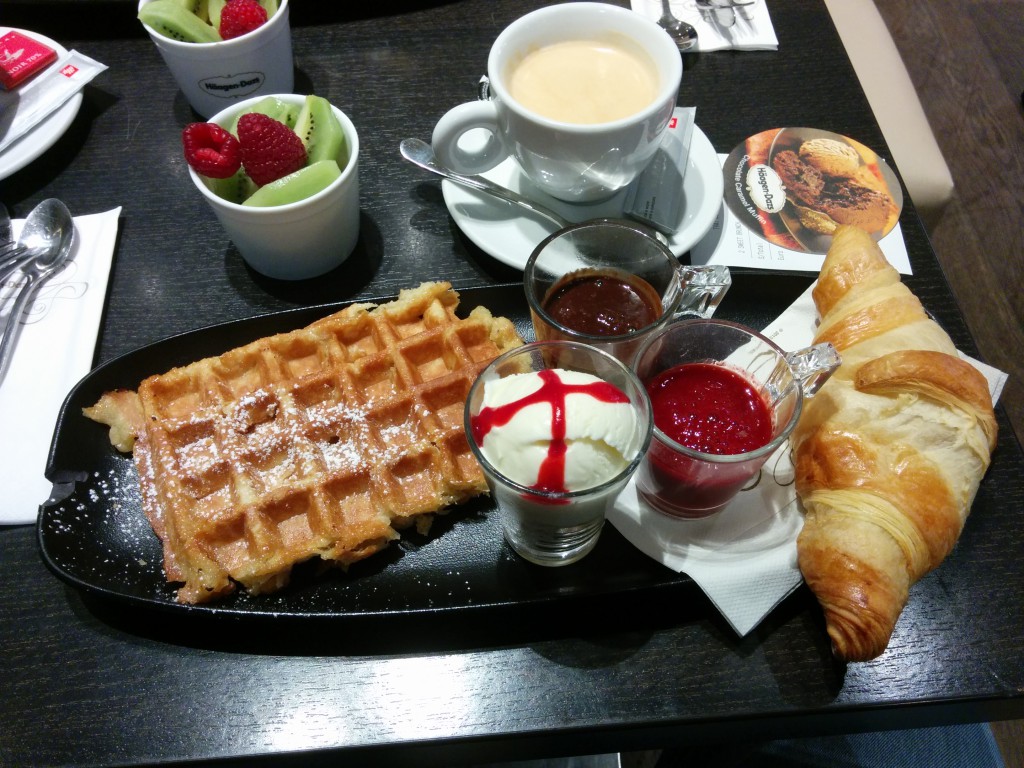 Which was then followed by more work. At lunch, we packed in work and headed into the centre of Brussels, this time in search of a microphone which would work with the camcorders Mark had brought with him, as backups for the FOSDEM video's. After searching high and low, we eventually found an affordable wireless microphone set in Cash Converters – which had the odd precaution of putting both mine and Marks' bags behind the checkout when we entered.
After this, we wasted a bit of time and grabbed some food, before heading to the traiditional pre-drinks for FOSDEM, at Delirium Cafe. An amazing place, which has become a major part of the FOSDEM ritual, and is definitely something to experience. After hanging out with various people from inside and outside the Perl Community, myself and Mark left early(ish) so we could be in on the Saturday to help unpack the van for the Perl stand.
Saturday rolled round, and apart form forgetting to set my alarm, and waking to Mark ringing me saying 'are you ready to go then?', and then us getting completely confused on which platform the Metro was meant to leave from, was a very interesting day. I managed to get to a couple of interesting talks, including one on testing black-box software by inserting a Javascript runtime into it, and two on the current state of KiCAD (an Open Source schematic and pcb designing software). As well, I managed to go round and have a talk with most of the other stands, nabbing the standard metric tonne of brochures, leaflets, and ofcourse, stickers. Unfortunately I was not able to get a sticker from the Python table, but got hold of a t-shirt anyway.
The Saturday evening Perl meal, organised by Wendy & Liz, was at the same place as last year, a lovely restaurant about 20 minutes away from the venue. The staff did amazingly, considering we arrived in dribs and drabs, and the food was gorgeous (Are you noticing a pattern here? Yes, I love my food!). As the evening wore on, the beer continued flowing, and conversations became heated debates.
So here we are at Sunday! Which was the day for all the Perl talks. This year I managed to catch every single one, mainly because I ended up helping in the room, taking backup video footage, and setting up the speakers. There were many interesting talks on both Perl 6 and Perl 5, showing both the merits and pitfalls of both an established, and a brand new language. There isn't much else to say about this, apart from to watch the videos when they come out – both myself and Claudio have been trying to get things sorted on this, and so hopefully everything will be sorted soon!
Obviously, if there was a Saturday Perl meal, then there has to be a Sunday Perl meal, again arranged by Wendy & Liz at a French style restaurant within 5 minutes of the venue – infact it was the same place that the FOSDEM staff ended up at when they had finished packing up at the University. Again, the food was amazing, with me having Diablo Prawns as a starter, and then a large (and I mean large!) Tuna (I think…) steak for the main – brilliantly cooked. Again the night continued on to conversations, about various things, before we all bid each other farewell for another event.
Myself and Mark spent Monday having another lazy walk around Brussels, going back to the shops we had noticed things in on Thursday and Friday, as well as having a wander around with our cameras, before catching the train back to the Airport. The flight home, apart from being a bit more packed than the flight there, was uneventful, apart from marking the end of a brilliant time at FOSDEM, where I met many old friends, and made several great new ones, who I all hope to see again in the future!
So thats a short(ish) post on my recent trip – I started writing this on the Friday morning actually, but never got a chance to finish it until now, almost 2 weeks on. However, I will leave you with a couple of pictures I took on the Monday while we were killing time before coming home, as well as a shot from Thursday night.